Dates and Events:
Breaking News:
---
2009-02-24 12:00 Age: 10 Years
OSADL members approved project to provide mainline Linux support for the MPC512x
Are you interested in making a mainline MPC512x port happen? Join us!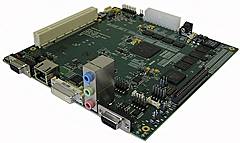 As a regular OSADL member, DENX Software Engineering has proposed an OSADL project to provide mainline Linux support for the MPC512x processor and was able to obtain the required majority of member votes in favor of the project. Funded partially by the OSADL, the project will be launched if and when the remaining funding is committed.
Hardware support
The accepted project aims to implement the following features into the mainline Linux kernel (ordered in descending priority):
The Freescale reference design (available as Freescale or STX Mini-ITX Mainboard) will be used, and the work will be based on kernel version 2.6.29.
Rationale
Instead of developing in parallel a wide variety of half-hearted ports none of which may ever be accepted in mainline Linux, we develop a single port - supported by many, who need it - which will eventually go to mainline Linux and be maintained and adapted by the kernel community. This single OSADL port will, of course, cost only a fraction of the many other individual ports altogether - and the tedious off-tree maintenance is also avoided. Thus, we are calling for companies who also need a state-of-the-art mainline Linux port of the MPC512x processor family to join the OSADL community and to help us getting this project started.
Additional benefits of an OSADL membership
In addition to proposing OSADL projects as explained above, OSADL members will
Press coverage

Linuxdevices already reported on the project.
Contact us
Please let us know, if you need any more information. You may send an email to

but you may also visit us at the Embedded World Exhibition in Nuremberg, Germany (March 3 to 5, 2009). The OSADL booth is located in hall 11, booth 306; Denx are in hall 9, booth 375 and also in hall 11, booth 306.

Documents (in PDF format)
---
Update: Hurrah! We are glad to report that the first membership application already arrived. The mainline MPC512x port is approaching. Details to follow soon.
---
Related News:

Don't miss the OSADL booth at the Embedded World 2009 - 2009-02-09 12:00