2007-10-24 12:00 Age: 16 Years
OSADL welcomes KEBA AG, Linz, Austria as new member
Our member poster is becoming quite crowded!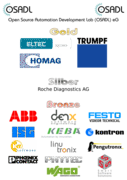 The KEBA AG, Linz, Austria, joined OSADL today as a regular member. Founded in 1968, KEBA has become an internationally successful electronics company and "stands for technical innovations, professionalism and dynamic force".
Welcome everybody at KEBA! We promise to do everything we can to make your membership successful for you and all of us.

---