Dates and Events:
OSADL Articles:
---
2007-06-16 12:00 Age: 14 Years
OSADL Board Support Package Specification
Draft revision 0.2 released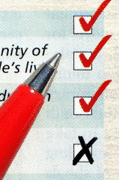 Revision 0.2 of the OSADL Board Support Package Specification has just been released and is available here.
What is the "OSADL Board Support Package Specification"?
Let it speak itself: "Board Support Packages (BSPs) .. adapt the generic Linux kernel to the vendor specific hardware platform, implementing the board-specific initializations and configurations required to run Linux on that platform ... Linux's Open Source nature allows industrial end users to adapt the kernel to their specific project needs; this work may either be done by the end user or by an Embedded Linux support or consulting company. The goal of this specification is to provide quality criteria of a BSP, closely adapting best practice rules from the kernel community. Following these rules makes it possible for different parties to interchangeably work on a particular BSP during the product life cycle." and "... this specification defines several levels of conformance, making it easier for industrial end users to decide about a BSP. The OSADL Test Lab offers a BSP certification service and rates BSPs into one of the categories ..."

The OSADL membership includes one BSP certificate per year and share.

If you wish to participate at the ongoing discussion of the Board Support Package Specification draft, please subscribe and contribute to the OSADL mailing list.

---