Dates and Events:
OSADL Articles:
---
2009-11-18 12:00 Age: 11 Years
SERCOS III middleware library available as Open Source
Download the Common SERCOS Master API from the Internet

OSADL member SERCOS International has breaking news: A driver library for SERCOS III passive boards is now available under an Open Source license. As with many other communication protocols, SERCOS III is patented - but, fortunately and in contrast to some other protocol stacks, the patent rights are completely owned by the user organization. This made it possible to release the Common SERCOS Master (CoSeMa) library under the LGPL and to grant, along with this library, a non-discriminatory, perpetual, irrevocable, and royalty-free patent license for this particular implementation. Without this patent license, it would not be possible to use an Open Source license.

With this newly released driver library, two versions of the Open Source driver for SERCOS III boards are now available: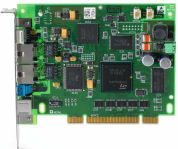 A driver for plug-in cards with a dedicated CPU (active boards such as the SERCANS III board) that has been released some months ago and a new driver for plug-in cards without CPU (passive boards) that can now be used in an Open Source system environment thanks to the CoSeMa Open Source API library.

The CoSeMa Open Source API library is available here for download. It is written in C and does not contain any elements that are specific to a particular operating system. Interested? More information can also be obtained at SERCOS International's booth of this year's SPS/IPC/Drives in Nuremberg, Germany (November 24 to 26). Their booth #110 is in hall 6 - not far away from the OSADL booths #306 and #403 in hall 8.

OSADL will support the activities to use the newly available Open Source library for the development of a mainline Linux SERCOS III master driver for passive boards.

---
Related News:

Meet OSADL and many of its members at the SPS/IPC/Drives 2009 - 2009-11-19 12:00