Dates and Events:
OSADL Articles:
---
2011-02-17 12:00 Age: 10 Years
Meet the highlight of hall 11 of the Embedded World 2011
... and visit the OSADL booth!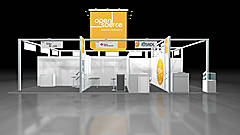 OSADL is, once again, participating at the Embedded World exhibition and conference. And, as in previous years, many OSADL members are using the opportunity to join the booth a subexhibitors.
OSADL
Get, among others, the facts about OSADL's latest contribution of using Linux in the industry. Learn how long-term stability, deterministic real-time capabilities and versatility is documented on-line at the newly established OSADL real-time QA farm.
Subexhibitors (in alphabetical order)
New book series OSADL Academic Works, Vol. 1 "Linux in Safety-Critical Applications" by Roland Kammerer
Day 1 of the Embedded World 2011 will also be the release day of OSADL's first book to be published in the newly established book series "OSADL Academic Works": Volume 1 is titled "Linux in Safety-Critical Applications" and written by Roland Kammerer. The book can be purchased at the OSADL booth at 19.80 euros. If you would like to meet the author, discuss with him about his book and let him autograph your book sample, you may do so on Thursday, March 3 at class 12 of the Embedded World conference.
---
Related News:

OSADL's first book "Linux in Safety-Critical Applications" is out - 2011-02-21 12:00