2008-10-07 12:00 Age: 15 Years
OSADL Seminar on Software Patents and Open Source Licensing
Listen to the experts and discuss with them the implications of software patents on Open Source licensing and vice versa.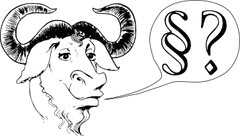 OSADL will organize a seminar on "Software Patents and Open Source Licensing" (in German language) on November 7, 2008 in Berlin, Germany. Future seminars are planned to be held in English language or to provide simultaneous interpreting.

The seminar will be held, among others, by Prof. Axel Metzger and Dr. Till Jaeger, internationally recognized experts on copyright law and Open Source licensing.
OSADL members have free access to the seminar, the fee for external participants is 450 euros (VAT included). Please visit the detailed seminar program.

---