Dates and Events:
OSADL Articles:
---

Rationale
State of the art
The Ethernet standard and the future evolution of this base communication layer represents today an important standard of interoperable network communication - in fact from sensor via control system up to the server. According to common understanding, this will remain so without doubt in the near and even less near future. To the contrary, there are many doubts that the upper communication layers will remain as they are now, since the desired deterministic and interoperable connectivity of the future requires that only a single protocol be used - instead of the more than 40 different ones none of which has reached more than 50 percent market share. In addition, communication methods are needed that require much less resources than today which is an important prerequisite to serve the expected large number of future nodes.
Next generation OPC UA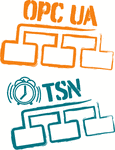 In order to obtain the mentioned interoperable connectivity, it was proposed some time ago to equip the already existing OPC UA protocol with additional features needed by industry and establish it as a unified communication protocol of the future. OPC UA runs even on systems that provide only a minimum of resources with respect to network bandwidth and computing power. Deterministic communication via this protocol shall be obtained using Time Sensitive Networking (TSN) that currently undergoes standardization. Two important protocol additions needed by industry that also are about to be standardized are Publish ("Pub") and Subscribe ("Sub"). While the former is needed to simultaneously send messages to a number of receivers, the latter allows a program component to register for a particular event such as sensor data exceeding or falling below permissible limits to avoid polling.
Project phase #1 (completed)
In addition to the standardization of the protocols, to gain general acceptance of this technology it also is necessary to provide a freely accessible software implementation that can be used in an unrestricted way. Since this currently is not not the case, the Open Source Automation Development Lab (OSADL) in collaboration with Indian system integrator Kalycito Infotech has launched a related Open Source software project that is funded by Kalycito and an OSADL project group. The already developed and further to be enhanced software is based on the OPC UA implementation that was created in the open62541 project (https://open62541.org/). The Fraunhofer Institute of Optronics, System Technologies and Image Processing (Fraunhofer IOSB) has taken over the activity of programming the OPC UA enhancements; this was a logical decision, since Fraunhofer IOSB already played an important role in the development of the original open62541 project.
Demonstrator at Embedded World 2018
The currently available results of the named project will be presented at the OSADL booth of Embedded World 2018 (hall 4, booth 168) in a demonstrator with several TSN nodes and concurrent real-time and non-real-time communication. The demonstrator contains a variety of TSN hardware and software implementations of various vendors that communicate to each other using a unified OPC UA implementation and provides the following features for the first time under an Open Source license that can be used in proprietary products:
Brokerless OPC UA Pub/Sub via IP multicast and the binary message encoding format according to draft of part 14 of the OPC UA specification
Integration of the publisher in a regular OPC UA server with additional real-time interrupting
Implementation of the subscribers as standalone software
Hardware
Intel Atom/I210 by TQ-Systems
FPGA-TSN by Analog Devices
FPGA-TSN Cyclone V SoC by Intel/Altera
FPGA-TSN Zync SoC by Xilinx
Software development and project management
Fraunhofer IOSB
Kalycito Infotech
Open Source Automation Development Lab (OSADL)
Partial funding and other contributions through the following participants of the OSADL project
Heidelberger Druckmaschinen
Kontron
Linutronix
Pilz
SICK
TQ-Systems
Letter of Intent (project phase #1, completed)
| | |
| --- | --- |
| Letter of Intent V5 (project phase #1, completed) | 55 K |
Project phase #2 (completed)
After the successful completion of the above described project phase #1, there is now an OPC UA implementation available that can be used by industry with rich generic features ready to be combined with a proprietary technology and application to deliver tangible outcomes to customers. In parallel to the project phase #1, patches for the Linux kernel were made available to use a PTP synchronized link for time based packet submission. A test link is now part of the OSADL QA farm where the synchronization quality of the PTP link is monitored continuously.
While a very affordable total cost of ownership is a key differentiator of this joint initiative, the market demands longevity, maturity and commercial support alongside such a program. It, thus, is the aim of this Letter of Intent of project phase #2 to launch a subsequent community project that fills the gap to use the existing OPC UA PubSub over TSN software components in real products and release them to the industry and automation market.
Letter of Intent (project phase #2, completed)
Project phase #3 (subscription launched on January 25, 2021)
After the successful completion of the above described project phases #1 and #2, there is now an Open Source licensed OPC UA SDK available to be used by industry to create a state-of-the-art OPC UA server that can be certified by OPC Foundation to adhere to the "micro embedded device server" profile. In addition, a PubSub implementation is available that allows using Virtual Local Area Network (IEEE 802.1Q) along with components of Time-Sensitive Networking (TSN) such as high-precision time synchronization (802.1AS) and time-aware traffic shaping (IEEE 802.1Qbv) to establish real-time communication via Ethernet.
To further enhance the existing Open Source ecosystem software pool with the goal to make open62541 the single fully fledged state-of-the-art hard real-time successor of the wide variety of former real-time Ethernet communications systems, more features of the software itself and additional software components around the SDK are needed. It therefore was decided to launch phase #3 of the community project. Since it continues to primarily take care of base technologies, it addresses the various target groups (e.g. controller vendors, field device vendors, machine builders, end users) in the same way as before.
Letter of Intent (project phase #3)
Survey of a tentative project phase #4
After the successful completion of phase #3 of the industry funded and OSADL steered community project: "Building an Open Source OPC UA over TSN Ecosystem", there are plans to start phase #4 and further develop next generation real-time Ethernet. Everybody is invited to suggest features that should be included in phase #4. We are happy to announce that we've just started a one-month polling period (lasting until February 21) in order to find out where to go. Would you like to participate in the survey? If so, please go to this survey and make your choice. Looking forward to receiving your feedback!
Whitepapers
A download link to the whitepaper Real-time Open Source Solution for Industrial Communication Using OPC UA PubSub over TSN that is mentioned in the Letter of Intent can be obtained from OSADL on request.