Dates and Events:
OSADL Articles:
---
Event
Title: embedded world Exhibition 2022
Start date: 21.06.
End date: - 23.06.
Organizer: Nuremberg Fair
Description: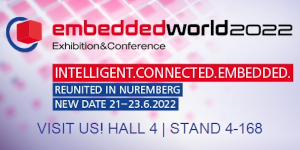 Change of date: The embedded world Exhibition 2022 which was originally scheduled for March 15-17, 2022, has been rescheduled and will now take place from June 21 to June 23, 2022.
Would you like to learn about the ways Open Source software can successfully be used in the automation industry, particularly in a license-compliant way? Then do not miss the OSADL booth in hall 4, booth 4-168 at the embedded world Exhibition 2022 which will take place from June 21 to 23, 2022 in Nuremberg/Germany. We are looking forward to meeting you in person there again!
In addition, we would like to invite you to attend the OSADL talks on Open Source at the Exhibitor Forum Hall 5 (5-335):
Wednesday, June 22, 2022 from 09:30 to 10:00 am: "Creating and re-using FOSS compliance information: Compliance toolchain and curation database" by Caren Kresse, OSADL
Thursday, June 23, 2022 from 02:00 to 02:30 pm: "Real-time Linux in a container - mission impossible or a winning team?" by Jan Altenberg, OSADL

For free admission to the embedded world exhibition you may register online at embedded-world.de/voucher (English) or embedded-world.de/gutschein (German) using the voucher code ew22466599.
Back