2009-06-11 12:00 Age: 14 Years
Online survey on automation software
Let us know what you want us to do!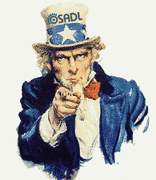 We need you!
A project at the University of Applied Sciences in Esslingen, Germany, aims to investigate the current status of automation software in the industry. For this purpose, a group of students have developed a questionnaire in cooperation with OSADL. The various topics of this questionnaire deal with all aspect of using, developing and distributing automation software in the industry. Among others, the questions focus on the future of field buses and on the role of Open Source software.


An online version of the questionnaire is now available. Are you using, developing or distributing automation software in the industry? As developer, project manager or similar? If so, we would really appreciate if you were able to spend some minutes to go through the survey and let us know your opinions. We certainly do not collect any private data, as the entire survey is completely anonymous. The results will be evaluated using frequency analysis and contingency tables and, at a later date, published scientifically. Selected results and conclusions will be made available in a subsequent News Article of this website.
Here is the questionnaire:
Please use this unique opportunity to let your opinions make a difference!
Update (01/01/2010):
The initial research project is finished, selected results are pubished here (sorry, in German language only). Therefore, the questionnaire is no longer accessible at the original URLs given above. However, a backup version for documentation purposes (that probaby will not be evaluated) is available at http://surveys.osadl.org.
---