Dates and Events:
OSADL Articles:
---
2007-07-10 12:00 Age: 14 Years
We are growing!
OSADL welcomes its new members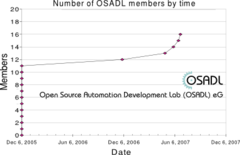 We have, again, the great pleasure to announce that new members are keeping us growing. A total of 4 new members have joined us since November 30, 2006, when Kontron Modular Computers came on board. Sixteen companies are now sharing their development activities to create and maintain basic Open Source operating system components for the automation industry.

Our new members are (in the order of joining us):
We are extending a warm welcome to our new members and we promise to do our very best to make their memberships as fruitful as possible for them and for all of us.
Input from the new members has already triggered new projects. We will add them to the Projects section very soon.
Several other companies have expressed their interest to become an OSADL member. We will continue to keep you informed when this happens. Maybe, next time it's your company.

Stay tuned!

---
Related News:

OSADL celebrates its 10-years anniversary - 2015-12-01 12:00
Welcome Kontron at OSADL! - 2006-12-08 12:00