Dates and Events:
OSADL Articles:
---
2007-06-18 12:00 Age: 14 Years
OSADL in the press again
We kept our promise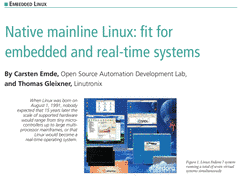 In an earlier News Article we said "We promise that the next article we write will be in English".
Okay, here is it.
The article "Native mainline Linux: Fit for embedded and real-time systems" just appeared in the board & solution journal issue 03/2007. A link to the article in PDF format is available here, but you may also use this direct link to download the article and read why so many industrial automation and machine companies selected GNU/Linux as the operating system of choice for embedded and real-time systems.

---
Related News:

OSADL in the press - 2007-02-11 22:00