2008-11-18 12:00 Age: 12 Years
Visit the OSADL booth at the SPS/IPC/Drives 2008 in Nuremberg, Germany
Meet OSADL member companies on our 200-sqm booth!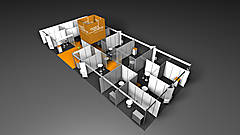 Many of the numerous OSADL members - hardware and software manufacturers and Open Source service providers - will present their products and services at the OSADL booth in hall 7A/610.
And this is also a place to learn what Open Source software is all about. When you then decide to select, for example, an Open Source operating system for your machine's next generation software, OSADL has a lot to offer.

This year's opening hours of the SPS/IPC/Drives in Nuremberg allow for an additional evening hour on Wednesday, November 26, 2008:


November 25, 2008: 09:00 - 18:00
November 26, 2008: 09:00 - 19:00 NEW!
November 27, 2008: 09:00 - 17:00
---