Dates and Events:
OSADL Articles:
---
2011-02-28 12:00 Age: 10 Years
OSADL welcomes its new member AMD
... and presents G-Series real-time data in the QA farm

OSADL is glad to announce that AMD (Advanced Micro Devices) recently joined OSADL as silver member.
As you may now, the recently released AMD Embedded G-Series aka eOntario brings a number of important advantages to the world of embedded systems. Having CPU and GPU on the same die, forever solves the problem of an otherwise still useful board design that can no longer be produced, because the graphics chip was discontinued. In addition, avoiding interface output drivers and buffers - required when CPU and GPU are on different devices - appears to save a lot of energy, sometimes up to 30%!
An engineering sample of the AMD Embedded G-Series processor G-T56N is running in OSADL's real-time QA farm since several weeks.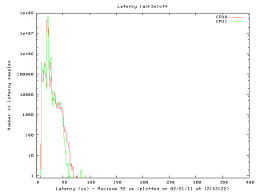 The chip is sitting on an AMD DB-FT1 evaluation board in rack #3/slot #4 where it is working reliably and quietly - exactly how a processor that is intended for embedded systems should behave. The real-time data are very promising as can be seen in the latency plots. Don't be scared, if the image at the link looks a bit different from the preview. The QA farm latency plots are updated twice a day to always provide up-to-date information about the most recent test cycle, while the above preview is a static image.
Once again, welcome AMD at OSADL! Thank you for joining us and, thus, in

creasing the number of shoulders to bear our projects. These projects will help the automation and machine industry to get the most out of currently available software and hardware for embedded systems - such as real-time Linux and AMD's new devices.
---