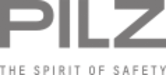 Pilz GmbH & Co.KG With more than 1,900 staff worldwide, Pilz operates internationally as a technology leader in automation technology. In this area Pilz is consistently developing a role as a total solutions supplier for safety and automation technology. In addition to the head office in Germany, Pilz is represented by 31 subsidiaries and branches on all continents.
Products include sensor technology, electronic monitoring relays, automation solutions with motion control, safety relays, programmable control systems and an operating and monitoring range. Safe bus systems, Ethernet systems and industrial wireless systems are also available for industrial networking.
Pilz solutions can be used in all areas of mechanical engineering, including the packaging and automotive sector, plus the wind energy, transport and press industries. These solutions guarantee that baggage handling systems run safely at airports, that theatre scenery moves smoothly and funiculars or roller coasters travel safely.
Pilz also provides a comprehensive range of services with an extensive selection of training courses. With safety advice and engineering, a comprehensive and competent service is available.


Pilz GmbH & Co.KG
Felix-Wankel-Str. 2, 73760 Ostfildern, Germany
https://www.pilz.com