Twelfth Real-Time Linux Workshop on October 25 to 27, in Nairobi, Kenya
October 25 to 27, 2010
Strathmore University
Faculty of Information Technology
Nairobi, Kenya

Following the meetings of academics, developers and users of real-time and embedded Linux at the previous 11 real-time Linux workshops held world-wide (Vienna, Orlando, Milano, Boston, Valencia, Singapore, Lille, Lanzhou, Linz, Guadalajara and Dresden) - the Real-Time Linux Workshop for 2010 will come to Africa for the first time. It will be held at the Strathmore University in Nairobi, Kenya, from October 25 through 27, preceded by one week public seminars.
Rationale
Embedded and real-time Linux have been rapidly gaining traction in consumer electronics and made significant advance into industrial computing. Today, Linux runs a wide range of industrial applications including real-time and safety-related systems. This vast pool of technology not only has the potential to improve the capabilities of computer systems in general but also has the ability to include new regions of this world into this creative process. These regions have been excluded so far due to the economic constraints involved with proprietary development models. Opening the door for the creative potential of engineers in Africa, exchanging ideas between diverse technical cultures is an essential contribution to advancing the capabilities of Open Source.

Call for papers
Authors from academics, industry as well as the user community are invited to submit papers on original work related to Open Source real-time systems. Such work may deal with general topics related to Open Source and free-software based real-time systems but also with research, experiments and case studies, as well as with issues of integration of Open Source real-time and embedded systems. A special focus will be on industrial case studies and safety-related systems. Topics of interest include, but are not limited to:

Modifications and variants of the GNU/Linux operating systems extending its real-time capabilities
Contributions to real-time Linux variants, drivers and extensions
User-mode real-time concepts, implementation and experience
Real-time Linux applications, in academia, research and industry
Safety-related FLOSS systems
Work in progress reports, covering recent developments
Educational material on real-time Linux
Tools for embedding Linux or real-time Linux and embedded real-time Linux applications
RTOS core concepts, RT-safe synchronization mechanisms
RT-safe interaction of RT and non RT components
IPC mechanisms in RTOS
Analysis and benchmarking methods and results of real-time GNU/Linux variants
Real-time networking with COTS
Medical applications using COTS and FLOSS

Debugging techniques and tools, both for code and temporal debugging of core RTOS components, drivers and real-time applications

Real-time related extensions to development environments
Final paper to be included into the RTLWS12 Proceedings
Upon acceptance of an abstract by the RTLWS12 Program Committee, the author will be invited to submit a full paper in a form defined by https://www.osadl.org/paper.tgz. A detailed description of the editing and formatting process will be provided along with the notification email.
Venue of the Strathmore University, Faculty of Information Technology
Address and location
Faculty of Information Technology
University Auditorium, Phase II
Strathmore University
Ole Sangale Road, Madaraka Estate
P. O. Box 59857-00200
Nairobi
Kenya
If using public transport, take matatu number 14, which leaves town from Bus Station and goes directly to the entrance of Strathmore University (the last stop).
Street map
Click on the red pin marker of this map to display a street map of the location and calculate directions to it. To learn about Kenya, please refer to the country's official Homepage at www.kenya.go.ke.
About the Faculty of Information Technology
The Faculty of Information Technology (FIT) is one of the main faculties of Strathmore University. It offers an undergraduate curriculum and graduate programs. In addition, Strathmore launched its first PhD program in 2010. The undergraduate curriculum is based on scientific principles and fundamentals that are applied to integrate technology, information and people to create knowledge that contributes to our culture, economic well-being and quality of life. The graduate programs aim to produce top professionals that offer cutting-edge research, innovation and scholarship. To be successful, the faculty depends on partnerships that start with staff members and students and extends university-wide and to other institutions and organizations in Kenya and around the world. For details, please refer to the faculty's Homepage.
Gallery
Some snapshots of the University building and the local facilities are given here.
Posters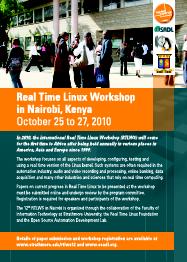 Workshop posters in printing quality are available as PDF in A4, A3, A2; there is also a low-resolution bitmap in JPEG format.
| | |
| --- | --- |
| Poster A4 (PDF) | 4.0 M |
| Poster A3 (PDF) | 4.2 M |
| Poster A2 (PDF) | 3.6 M |
| Poster Bitmap (JPEG) | 91 K |
Important dates
Release of this Call for Papers on March 29, 2010
Second Call for Papers on May 3, 2010
Deadline for abstract submission on June 7, 2010
Notification upon acceptance by

July 12, 2010

July 26, 2010

Paper submission deadline on

September 6, 2010

September

20, 2010

Workshop from October 25 to 27, 2010
Organization committee
Local staff at Strathmore University, Nairobi, Kenya
Peter Okech
Joseph Sevilla
Nelson Ochieng
Karen Sowon
Real-Time Linux Foundation Working Group and OSADL
Nicholas Mc Guire (Distributed and Embedded Systems Lab, Lanzhou University, China)
Qingguo Zhou (Distributed and Embedded Systems Lab, Lanzhou University, China)
Andreas Platschek (Opentech, Austria)
Carsten Emde (OSADL, Germany)
Program committee
Alfons Crespo, University Valencia, Spain

Carsten Emde, OSADL, Germany
Roberto Bucher, University of Applied Sciences of Southern Switzerland, Lugano-Manno, Switzerland

Gerhard Fohler, Technische Universität Kaiserslautern, Germany

Kamau Gachigi, School of Engineering, University of Nairobi, Kenya

Thomas Gleixner, Linutronix, Germany

Nicholas Mc Guire, Lanzhou University, China
Hermann Härtig, Technische Universität Dresden, Germany

Paul E. McKenney, IBM

Jan Kiszka, Siemens, Germany
Miguel Masmano, Universidad Politecnica de Valencia, Spain

Peter Okech, Strathmore University, Kenya
Odongo William Okello, University of Nairobi, Kenya

Daniel Orwa, University of Nairobi, Kenya
Zhou Qingguo, Lanzhou University, China
Ismael Ripoll, University Valencia, Spain

Georg Schiesser, OpenTech, Austria
Stefan Schönegger, Bernecker + Rainer, Austria
Joseph Sevilla, Strathmore University, Nairobi, Kenya
Martin Terbuc, University of Maribor, Slovenia
Peter Theuri, University of Nairobi, Kenya
Bernhard Zagar, Johanes Keppler University, Austria

Peter Zijlstra, Red Hat, Netherlands

Workshop organizers
OSADL Real Time Linux Foundation Working Group