2014-04-09 12:00 Age: 6 Years
First LCA certificate issued
Major automation provider passed OSADL License Compliance Audit

OSADL is pleased to inform that a Linux-based web interface of Siemens Schweiz AG, Building Technologies Division, has successfully undergone the OSADL License Compliance Audit (LCA). The web interface is a tool that allows the local or remote control of one or more building automation stations via touch panels and standard web browsers. Thus, Siemens Building Technologies is the first company authorized to label the audited product with the registered OSADL LCA hallmark, indicating to the purchasers of the product a high level of legal compliance when passing on the Open Source software contained in the product.
The OSADL LCA is the only audit worldwide, which, relating to a specific product, examines whether the GNU General Public License Version 2 (GPL-2.0) and GNU Lesser General Public License Version 2.1 (LGPL-2.1) license obligations have been observed. While doing so, not only formal legal obligations but also their practical implementation are controlled. The audit has jointly been performed by Attorney Dr. Till Jaeger and software specialist Armijn Hemel, MSc. Dr. Jaeger is a Certified Copyright and Media Law Attorney; Armijn Hemel is, among others, author of a program that is able to detect copyright violations in binary code and which has been used during the audit. In the course of the audit, every single license requirement contained in the GPL-2.0 and the LGPL-2.1 is examined for correct implementation and documented. Should a particular license obligation not have been implemented completely, the responsible processes are analyzed, and suggestions are given how to optimize them. Furthermore, it is examined whether all other contracts linked with the software licensing are compatible with each other; this especially applies to the General Terms and Conditions.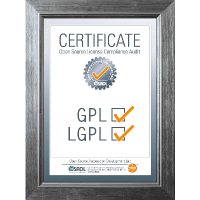 In addition, it is examined whether third-party code components have been integrated into the Linux kernel. If so, it is verified to what extent the licensing of the external components is compatible with the GPL-2.0. Finally, it is verified whether the installed Linux kernel can be reproduced from the source code that has to be provided according to the GPL-2.0.
On the part of Siemens, Mr. Roger Meier and Mr. Oliver Fendt have mainly participated in the audit. Mr. Meier is responsible at Siemens Schweiz AG, Building Technologies Division, for the development of the HW/SW platform the audited product is based upon. Mr. Fendt is responsible for the topic of Open Source Software Governance at Siemens AG, Corporate Technology, Corporate Standards and Guidance.
The audited Linux-based web interface is the first product that has successfully passed the OSADL License Compliance Audit up to now, and Siemens Schweiz AG, thus, is the first company to receive the OSADL LCA certificate. This shows that Siemens Schweiz AG has implemented the required processes to comply with license conditions in an excellent and exemplary way.
###GOOGLEPLUSONE###
---