2016-10-04 12:00 Age: 7 Years
Video clips available to explain what OSADL is all about
Watch and like it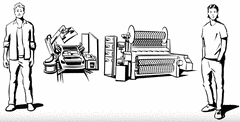 A video clip is worth a thousand words.
When asked what OSADL is all about, we here at OSADL often have tried to use words - but this was not always as successful as expected. We, therefore, sought advice from specialists who produced a short video clip on OSADL. It is available in English and German language and can be watched directly on the OSADL Homepage or in OSADL's YouTube channel.
Is it worth a thousand words? Please let us know.
---