2009-03-12 12:00 Age: 15 Years
"I will use, develop and distribute Open Source software. What do I need to know?"
Our conference at the Hannover Fair 2009 has the answers!

Open Source software such as the Linux operating system has gained wide acceptance in the machine and automation industry and, in general, in embedded systems. But introducing Open Source into a company may be more than just changing a software brand. It may have an impact on the way people in a company interact and collaborate. Intranet and Internet will probably play a more important role. In addition, legal procedures, business plans and marketing strategies may need to be adapted. All in all, this is not a big deal - but it is worth to know. In addition, most aspects imply improvements and changes in a positive way - another good reason to be aware of them.
Let's assume a company is planning to use, develop and distribute Open Source software. What must be considered? To answer this question, OSADL is organizing a conference on Open Source and Linux in the industry at the Hannover Fair 2009. The close collaboration and the support of the Hannover Messe, the Robotation Academy and the German Engineering Federation (VDMA) is gratefully acknowledged. The conference will take place at the Robotation Academy (on the area of the Hannover Messe 2009) on Wednesday, April 22, 2009 from 10:00 to 16:45. It will be held in German language.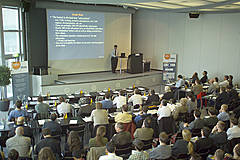 The topics of the conference focus on

sociological,
socio-economical,
practical/technical,
legal,
licensing,
business and
strategic
aspects of using, developing and distributing Open Source software.
We are very glad that the following speakers accepted our invitation to contribute to the conference:
Dr. Sabine Pfeiffer, Institut für Sozialwissenschaftliche Forschung e.V. München: "What is the impact of using Open Source software in a company on the way people interact with each other?"
Dr. Gerd Sebald, Institut für Soziologie, Universität Erlangen-Nürnberg: "How does the concept of Open Knowledge work?"
Dr. Carsten Emde, Open Source Automation Development Lab (OSADL) eG: "What are the practical and technical prerequisites for a company to use Open Source software and to contribute to it?"
Dr. Till Jaeger, jbb Rechtsanwälte, Berlin: "What is an Open Source license, how does it affect contracts and what has it to do with patents?"
Oliver Winzenried, Wibu-Systems, Karlsruhe: "Open Source and protection of intellectual property, contradiction or complement?"
Thomas Gleixner, Linutronix GmbH, Uhldingen: "How does the Open Source business model work?"
Rüdiger Eikmeier, Ethernet Powerlink Standardization Group (EPSG), Berlin: "How does Open Source affect a company's marketing activities and competition?"
Interested? Please register using this registration form. We are looking forward to meeting you in Hannover!
-->
---
Related News:

OSADL welcomes its new members - 2009-04-16 12:00