Dates and Events:
OSADL Articles:
---
2009-02-26 12:00 Age: 12 Years
PREEMPT_BEACH
Is your Grumpy Editor's prophecy turned into reality?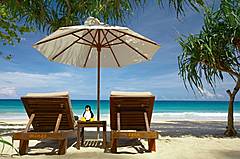 Apparently, the two guys have returned from palm tree to RT tree. Did you read the email interview of your LWN editor Jonathan Corbet with Ingo and Thomas? If not, you should. It's here. You'll learn everything you should know, if you are interested in the evolution of merging the PREEMPT_RT patches into mainline Linux.
"The realtime patch set will be mostly merged by the end of the year..." is perfectly suitable for copy-and-paste ... but, Jonathan, we won't miss it in your guide to 2010.
---
Related News:

LWN.net reports on RTLWS11 in Dresden - 2009-10-20 12:00
Threaded IRQ handlers on their way to mainline Linux - 2009-04-14 12:00